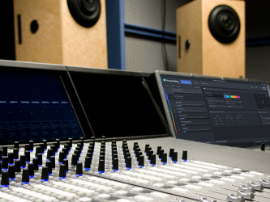 MPEG-H Authoring Suite 5.0: Your complete MPEG-H tool chain
The MPEG-H Audio system delivers immersive sound on every kind of playback device – from home theaters to 3D soundbars to mobile devices. For the easy creation of such audio experiences, Fraunhofer IIS has developed a complete set of tools for the creation of audio and video content with object-based 3D Audio. The MPEG-H Authoring Suite (MAS) 5.0 now includes all tools required for authoring, encoding, and playback of MPEG-H Masters as well as encoded MPEG-H. With the comprehensive range of instruments, producers and broadcasters deliver immersive soundscapes that users can adapt to their personal needs and preferences. This can happen within a predefined framework by including fully adjustable dialogue levels, customizable audio description, multiple languages, and even interactive object positioning.
The MAS 5.0 makes the production of MPEG-H easier, faster, and available for everybody. It can be used in all areas of the field from radio and TV broadcast to immersive music streaming and supports authoring and export in production environments running at 48kHz or 96kHz sample rates.